Bitcoin has consolidated between the $38K and $45K zone for the past two months, as indecisiveness continuously rocks the market.
On-chain analyst Will Clemente acknowledged:
"BTC has been in this consolidation pattern for 2 months."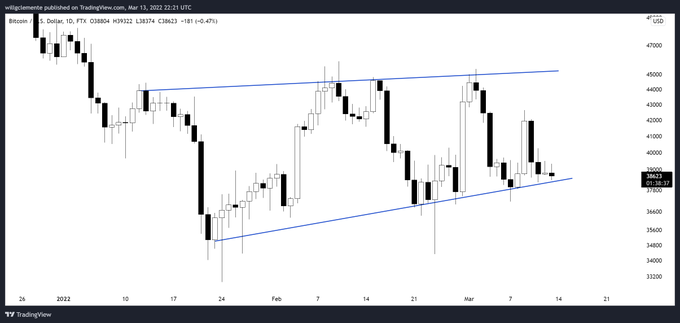 Source: TradingView
Market analyst Lex Moskovski shared similar sentiments, describing the current BTC market as "the mother of all consolidations." He noted:
"The mother of all consolidations. On-chain volume at $39k is the largest in the entire history of Bitcoin. Record 775k BTC changed hands at around $38.7."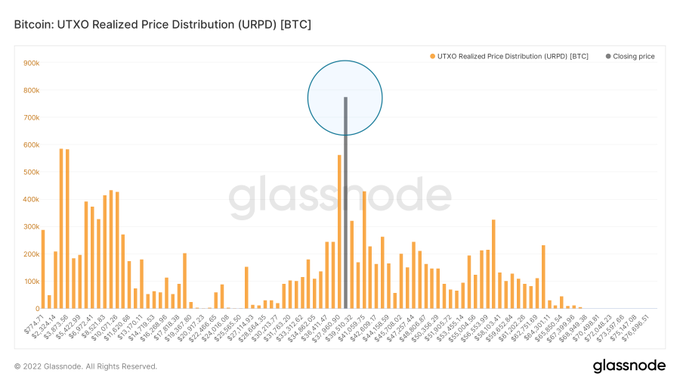 Source: Glassnode
Moskovski added that Bitcoin had moved around $39,000 more than any other price in its 13-year journey based on the high on-chain volume recorded.
The leading cryptocurrency was down by 1.5% in the last 24 hours to hit $38,419 during intraday trading.
Bitcoin addresses continue soaring the heights
Despite the consolidation happening in the market, BTC addresses continue going through the roof. Data analytic firm IntoTheBlock explained:
"The number of addresses holding BTC continues setting new records. Bitcoin addresses with a balance reached a record of nearly 40 million. Even as BTC has remained on a downwards trend in 2022, the network added a total of 888,000 new addresses with a balance."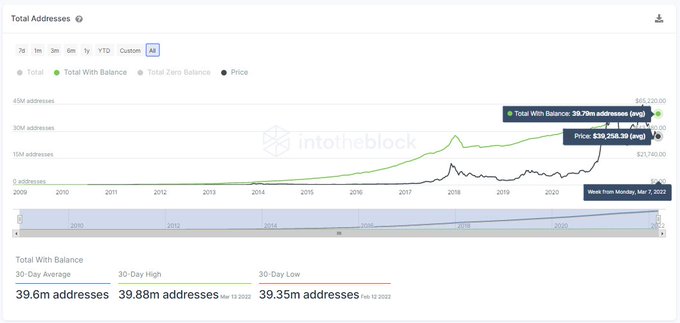 Source: IntoTheBlock
BTC long-term holders have been leading the pack in accumulating more coins. On-chain analyst under the pseudonym Checkmate stated:
"Bitcoin long-term holders are adding to their balance at an annualized rate of 7.6x issuance. With ~900BTC in mined issuance per day, this means around 6,840 BTC is moving into LTH storage daily."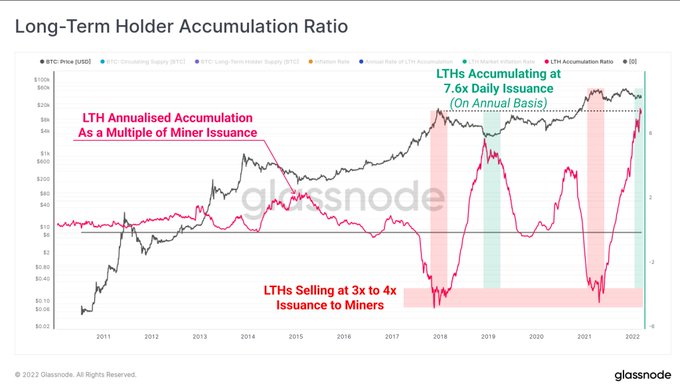 Source: Glassnode
Meanwhile, large institutional transactions have been dominating Bitcoin volume at 99%. Institutional investments have played an instrumental role in revolutionizing the BTC ecosystem. For instance, they enabled the leading cryptocurrency breach the then all-time high of $20,000 in December 2020 after three years of waiting.
Image source: Shutterstock